Strata CIX Office Phone Systems - Overview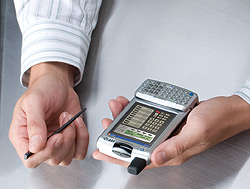 Unify. Simplify. Communicate.
One world. One company. One goal of communicating better. And one telephone system that brings it all together. The Strata CIX670 unifies, coordinates, and streamlines all your communications with stunning agility and proficiency.
Modular in architecture. Scalable in design. Networkable with other systems. The Strata CIX670 gives you incredible capabilities today — and the ability to build out your system as you grow.
Expand up to 560 telephones — and even more by networking multiple systems.

Share vital information and functionality between your main office, branch offices, and remote locations.

Take advantage of remote user telephone connectivity that lets you use your newfound communication features anywhere you work with exceptional cost-efficiency.

Take telephone functionality wherever you leave your desk with a full line of integrated cordless and wireless telephones.

Promote effective communication with easy to use but sophisticated Stratagy voice processing capabilities that include Auto Attendant, Voice Mail, Unified Messaging, Automated Speech Recognition Recognition (ASR), Text-to-Speech (TTS), and Interactive Voice Response (IVR) capabilities.

Answer incoming customer calls with utmost efficiency with ACD/MIS call center features.

What a concept. What a solution!
Configure flexibly and manage growth.
Strata CIX670 provides the configuration flexibility you want to build the communications system you need now, and expand as your needs grow.
Supports a complete line of Toshiba digital and IP telephones, analog telephones, as well as analog and digital Public Switched Telephone Network (PSTN) interfaces, and Strata-Net multi-system networking interfaces.

You can configure your communication system to include any combination of these devices and know that they'll work together seamlessly.

Start small and grow as you need with the modular architecture of the Strata CIX that enables you to add capacity and new capabilities.

Whether you're ready for IP telephony today or sometime down the road, your options allow you to decide when and where it makes sense for you to deploy IP telephony or legacy equipment migrated from other systems.

That's a winning strategy!
The Strata CIX delivers on the promise of IP telephony by providing all the features and benefits of traditional business communications systems on a converged IP platform. With new, never-before-seen IP-based adaptability capabilities, it is the most efficient, easy-to-use, and customizable telecommunication system available today.
Customize existing features and create new ones.
True customization comes when you can adapt a solution completely to your needs.
The Strata CIX is the first telecommunication system to be truly customizable to the needs of each user, making changes on-the-fly, in hours and days, instead of months or years, or waiting for the next release of software.

Using Toshiba's FeatureFlex™ adaptability tool, the Strata CIX, with the integrated Media Application Server, enables you to tailor your system well beyond standard system and administrative options and basic programmable features.

Modify existing features—and create new ones. And not just CIX call processing, but blended features that work between all system applications and resources. This includes voice mail, CTI applications, and more.