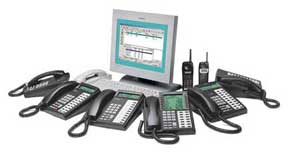 Digital Telephones and Consoles
Maximize Your Productivity/Protect Your Investment
Our full line of telephones provides the industry's strongest solution to meeting your changing telecommunication needs, no matter what size or type of business you have. All Toshiba telephones are compatible with all Toshiba systems, even if you upgrade to a larger system. All of which fully protects your investment in Toshiba digital telephones. Plus, proven Toshiba quality and reliability are built into every telephone we offer. Each model is rigorously tested in real-world conditions, so you can depend on your Toshiba digital telephone system's performance day-in and day-out.

All our telephones provide flexible features and options that maximize ease of use and your employee's productivity, which maximizes your profits.
Digital Display Speakerphones
Our 2-line x 24-character LCD Digital Speakerphone models include easy-to-read feature prompting with 4-button soft key operation, which makes feature access and use easier by displaying simple, clear instructions on the telephone's LCD screen.



Program calling features and speed-dial numbers for fast one-touch operation. They're available in your choice of 20-button or 10-button models to match the level of functionality you require.


Our 8-line x 24-character LCD Digital Speakerphone model makes feature use even easier via the large display and 12-button soft key operation, and provides 14 programmable feature buttons.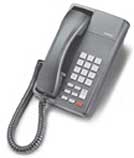 Single-Line Telephone
For applications requiring simpler telephone functionality and lower cost, a digital single line model is available.


It has fixed buttons for Message with red LED, Line (Primary DN) with red LED, one-way speaker with red LED, Speed Dial, Conference/Transfer, Hold, and Volume.


The digital single line telephone has one programmable Flex button.
Simplified Call Processing For Your Operator
Quick answer and transferring of calls using our 20-button LCD digital speakerphone equipped with an optional 20-button Add-on Module or 60-button DSS Console.


Programmable buttons provide Direct station selection (DSS) and busy lamp field (BLF) functionality, as well as one-touch call processing for frequently used calling features.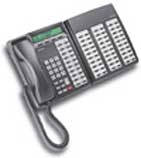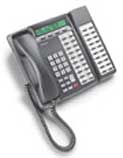 PC Attendant Consoles
High Volume Call Processing Made Easy
Processing incoming calls with speed and efficiency is mission-critical for businesses with high call volumes. The PC Attendant Console delivers the optimum solution, simplifying the complex process of answering and transferring calls for multiple lines on the Strata DK424i system.

Answer And Route Each Call Appropriately & Quickly
The PC Attendant Console displays Caller Identification and Dialed Number Identification Service, so your operator will know who is calling, for whom, and where to transfer each call. This capability is a must for efficiently routing calls to your facility's different departments.

Advanced Features Maximize Operator Efficiency
The PC Attendant Console operates as a Windows¨ application on your PC, providing advanced, easy-to-use features that enable your operator to accurately process calls quickly: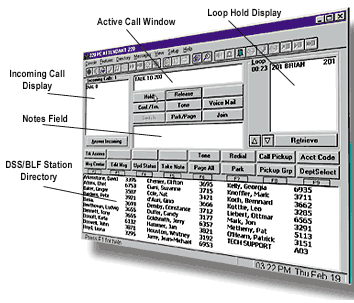 Answer Button with Answer Priority and Queuing
Emergency Call Priority
Programmable Buttons allow one-touch operation of the features you use most
Automatic Day/Night Mode Switching
Message Center/Voice Mail Transfer
Call Waiting Count
Loop Hold Display With Timer
Internal Name/Extension Directory
Outgoing Speed Dial Directory
Busy Lamp Field enables your operator to see station status at a glance
Color-coded indicators simplify monitoring of various status conditions
All PC Attendant Console functions can be accessed either from the keyboard or by clicking screen buttons or icons, with headset or handset operation - the choice is yours! Plus, Toshiba's Strata DK424i system seamlessly integrates up to four consoles, automatically distributing the load of incoming calls.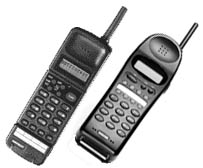 Cordless Digital Telephones
Stay Fully Productive While On The Go!

Our Cordless Digital 900 MHz Telephones are custom designed to provide most functions of a Toshiba digital desk phone. In fact, they're the only cordless phones that give you access to these advanced features:


Share the same station port and extension number with your digital desk phone, enabling you to use either telephone as needed.

Follow the same call forwarding and station hunting sequences.

Switch between your cordless and digital desk phones even during a call!

LCD displays Caller ID information and concise feature-operation instructions which simplify feature use.

Provide four feature buttons you can use for multi-line access or to program directory numbers, CO lines or the calling features you use most.

Significantly longer range than conventional cordless phones.

Go Mobile With The Advanced Features Of Your Toshiba Digital Desk Phone
Maximum security is also built into the Toshiba Cordless Digital Telephones. Spread-spectrum technology and narrow band technology minimizes outsiders' ability to scan the phone's frequency range, safeguarding your private conversations.