The Toshiba IP Vision

Today, Toshiba offers a comprehensive feature rich suite of communication solutions for the Small and Medium Enterprise market with best in class migration, quality and reliability. We plan to continue to evolve our product line to deliver on the value set enabled through emerging technologies such as IP and Voice/Data Mobility. Ultimately we will merge the best of our traditional and open platform systems into a fully converged voice/data IP solution with seamless wireline/wireless capability, unbeatable flexibility in call handling, and comprehensive legacy support.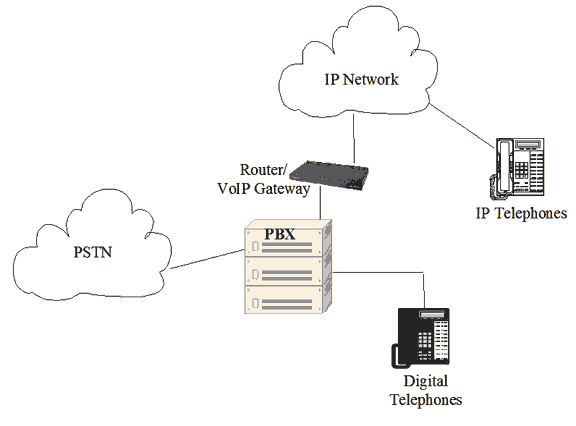 Our goal is to migrate existing and new customers to a highly adaptive, applications enabled, IP Communications Solution that will allow the Enterprise to do business the way they want to. Our system will incorporate the best of today's quality and reliability, call handling, messaging and other applications in a well abstracted, cutting edge, rules based architecture for unparalleled flexibility.
We believe Enterprises shouldn't have to adapt to technology, rather technology should adapt to the needs of Enterprises. We are committed to delivering on the promise of emerging technologies by developing and packaging these technologies into Communication Solutions which allow Enterprises to be more cost effective, more competitive, more connected to their customers, vendors and each other.
The Value of IP Technology
The value of Internet Protocol (IP) technology comes from how it will revolutionize the way enterprises interact with suppliers, customers, and employees. It may be years before organizations fully exploit the potential of the Internet and IP network technology, but it introduces new ways of communicating and conducting business. The successful implementation of IP will not require business users to conform to the technology, but the technology will conform to the users and how they want to interact with the world.
IP technology is leading to the re-definition of business communications systems. Business communications systems, from an enterprise standpoint are much more than just teleVoIP systems. These systems are increasingly defined by integration of voice, data, and applications all operating on a single network in a seamless manner. This is what is referred to as convergence and it is what allows enterprises to become more efficient by enabling customization of the user experience. IP technology is the catalyst that is causing this convergence trend to take shape.
IP Technology Takes Different Forms
New technology continually brings new capabilities to business communication systems. This new technology comes in different forms.
Advances and improvements in traditional PBX systems make them more functional and easier to use.

The adaptation of data networks to carry voice provides ways to converge multiple networks together using Voice over IP (VoIP) technology.
Both traditional PBX teleVoIP systems and IP-PBX systems have their advantages. Much is argued in the marketplace about which is better. The truth is neither is better simply by its nature, but only by its application to meet the individual needs of the organization using it. Simply put, choose the type of system that's best for you. Either way, IP technology is already showing how it can improve the ways in which enterprises operate and reduce costs.
IP-enabled PBX Systems
The rock solid reliability of PBX systems cannot be argued. They almost never go down and rugged digital teleVoIPs are equally durable. They offer almost all the telephony features anyone could need. However, while PBX systems support various Computer Telephony Integration (CTI) and IP-enabling applications, converging the two technologies somewhat, the teleVoIPs operate on a separate network from the organization's data network. This requires you to maintain two separate voice and data networks. This may be an advantage or disadvantage depending upon the amount of IP network infrastructure you already have in your enterprise. IP-enabling these PBX systems provides VoIP trunk access and remote teleVoIP user applications over IP networks, to supplement access through the public switched teleVoIP network. The IP-enabled PBX architecture typically involves the addition IP trunk cards and IP station cards, with Ethernet interfaces, to existing PBX systems as shown in the example below.
IP-PBX
The IP-PBX that operates in a pure IP environment, is based upon PC server technology, and uses a single network of communication devices and wiring for both data and voice traffic. This network consolidation is assumed to result in decreased network administration, thus making deployment of services and applications easier. Hosting teleVoIPs connected through one IP network, either locally via a LAN, or remotely in any location via a private Intranet or the public Internet, provides the flexibility of distributed configurations and remote teleVoIP users. The IP network will provide all the call switching, regardless of whether calls originate from the public switched teleVoIP network, digital or analog teleVoIPs, or IP teleVoIPs, as shown in the example below.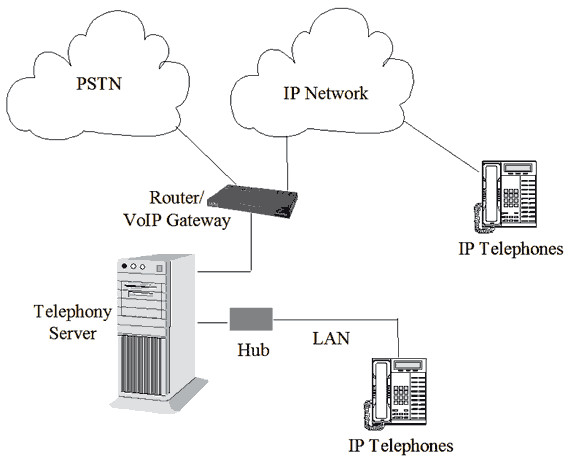 The Best of Both Worlds
But why should enterprises have to choose or compromise between these two approaches? Why not have the best of both worlds? For most enterprises, the migration path to IP telephony will be a gradual process rather than an event in time. Rather than acquiring new IP-PBX technology through system replacement at higher cost and higher risk, it is expected that most enterprises will integrate voice and data IP traffic into their existing systems as the need arises. This approach protects your investment in existing voice, video, and data networks and represents a low risk migration path.
If you're thinking this way, you're not alone.
Industry sources show that most enterprises with existing investment in traditional PBX systems prefer this lower cost and lower risk transitional approach to IP integration, accomplished through the addition of IP hardware and software to existing traditional PBX systems.

This is also a less disruptive approach that enables IP-based services, yet maintains the existing rich set of features and functions as well as the reliability of the circuit-switched PBX.
IP-ready When You Are
Industry analysts identify the primary obstacles impeding organizations from migrating to converged networks are perceptions about voice quality over IP, system reliability, interoperability with existing systems, and cost.
Toshiba recognizes that to grow and stay competitive, business enterprises must be able to incorporate the latest IP technologies into their communication systems both cost effectively and without disrupting the flow of business. For example:
The Strata CTX100 and CTX670 are reliable and feature rich PBX systems using high quality digital teleVoIPs. These same digital teleVoIPs can also cost effectively communicate over your IP data network to support remote teleVoIP users in any location. By IP-enabling the Strata CTX, remote digital teleVoIP users via your IP network get the same feature functionality as those locally connected to the PBX.

The Strata CS is a communication server, using various means to provide effective voice communication over your IP data network, including both digital teleVoIPs and IP teleVoIPs. By IP-enabling the Strata CS, remote digital teleVoIP users get the same feature functionality as those locally connected to the PBX, and remote IP teleVoIP users via your IP network get the same feature functionality as analog teleVoIP users locally connected.

These IP-enabling capabilities can be added to Strata systems on an as-needed basis. By IP-enabling existing systems, your investment in these systems is protected while leveraging the power of the Internet and your IP data network infrastructure.

Using this approach, Toshiba is transforming today's traditional voice teleVoIP systems into IP converged communication systems.
The Future of IP Telephony in the Enterprise
No enterprise application is being more impacted by convergence to IP than voice communication. Most industry analysts predict that voice for enterprises will rapidly become more IP-based to support remote user and other applications.
By the year 2005 it is projected that more 50% of all new PBX teleVoIP stations sold to enterprises will be IP-based.

In the interim, traditional teleVoIP systems, which are TDM based, will continue to be sold and gradually be upgraded with IP capabilities.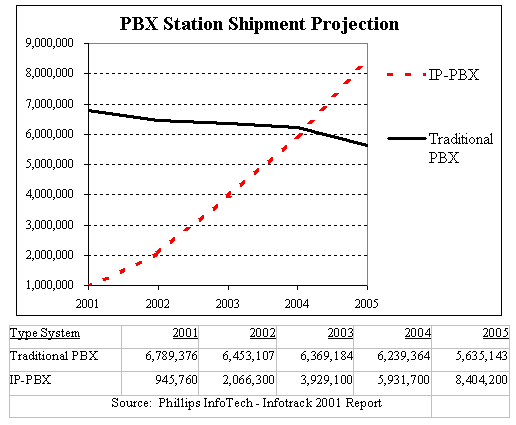 For most enterprises, IP technology will evolve in various forms to serve their applications in the future. Enterprises need this flexibility to meet their needs and give them options to ease into IP technology as their needs develop.

Their existing traditional PBX systems will take on more IP-enabling capabilities on an add-on as-needed basis.

New types of IP-PBX systems will provide pure IP alternatives when they are ready and need to make the transition to an all IP environment.

The most successful providers of these products will offer a product mix that offers customers a choice of the type approach that best meets their needs.
As one of the leaders in the industry, Toshiba is committed to the business telecommunications marketplace with robust product lines and one of the longest track records in this business.
Toshiba provides both traditional type teleVoIP systems, using proprietary hardware, and communication server teleVoIP systems, based upon the use of Windows PC servers, both of which offer IP-enabling options that you can add as you need them.

In the future, Toshiba will also offer a pure IP-PBX system and a family of IP teleVoIPs when you're ready to make the leap to a pure IP communications environment.
Applications
IP-based applications will allow enterprises to transform their business in a way that will enable them to enjoy a sustainable competitive advantage. The IP-based voice application will be integrated with other applications such as Unified Messaging, ACD, CRM, and e-commerce to allow enterprises to work the way they want to work. There will be linkages between various databases connecting remote or traveling employees to the office and their customers all the time, from anywhere, and through various portals. True and useable mobility will be realized.
IP applications will be smart and the business communication systems will be configurable and adaptable. For example, imagine your cell VoIP and laptop computer connected to your enterprise network wirelessly with the ability to know when you are in the office and automatically 'configures' your system based on this, while also downloading updated contact information to your PDA or cell VoIP. The system could also route your cell VoIP calls to your office teleVoIP. Information will be presented to users the way they need it based on where they are. Smart and configurable systems will create the winning advantage in the marketplace.
Conclusion
The converged network will continue to become a more critical source of an enterprise's competitiveness. Network initiatives need to support specific business goals that reduce the cost of doing business, increase business productivity, and improve customer service.
With network access and physical convergence of voice and data services over IP, virtual tie lines, enterprise tie lines, multiple-system networking, and Voice over IP (VoIP) are now achievable in one combined Toshiba solution. Toshiba Strata CTX, Strata DK, and Strata CS users can go from simply transmitting all of their traffic over the same physical link, to encapsulating all of their traffic into the same protocol (IP) for transmission.
By delivering a broad array of voice and data services through the same protocol platform, companies avoid the complexities and expense of using different providers and different devices to deploy these services. Unlike other systems that require an external gateway between the PBX and router to handle VoIP, Toshiba's integrated interface cards provides direct conversion between teleVoIPs and IP trunks, eliminating the need to configure multiple devices.
Based on and providing capabilities that seamlessly bridge Strata business telecommunication systems, teleVoIPs, and fax machines with digital data networks, organizations can more fully exploit their existing intranet and Internet facilities. Since communications take place over a digital data network, the reduction or possible elimination of long distance costs for voice communications over conventional teleVoIP networks.
What's the conclusion? Stick with Toshiba. We know where IP technology and business communication systems are going. We provide the solutions today to get you there safely, and Toshiba has an evolving product strategy to keep you moving in the right direction in the future.
.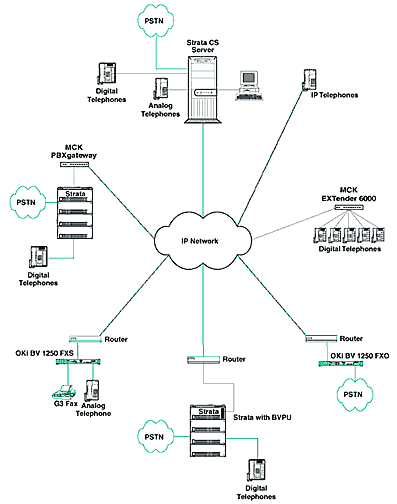 Toshiba's Current IP Networking Solutions